Global wellness brand Technogym celebrated Rafa Nadal's men's singles win at the Australian Open, highlighting his long-term sports training partnership with the tennis star.
At the age of 35, Nadal became the first tennis player to win 21 Grand Slam titles last Sunday, earning his victory after a grueling encounter in five sets over a five-and-a-half-hour match.
Underlining that talent, mindset and, above all, athletic training are at the root of Nadal's success, a statement from Technogym said that "this success seals Rafa's nature as a world champion exceptional sportsman, expressing excellence from a physical, technical and mental point of view.
"In addition to Rafa's innate talent and tremendous competitive verve, his athletic preparation has been fundamental to ensuring his sporting longevity and performance, such as that of the Melbourne final, which he won after a match of more than five hours against the favorite. , 10 years younger.
A long-time user of Technogym for its sports training, the collaboration between the tennis champion and the reference brand for the training of athletes – Technogym has been Official Supplier to the last eight editions of the Olympic Games – began in 2008 during the Olympic Games of Beijing and has been consolidated over the years.
Technogym has created a gym dedicated to Nadal's training on the Spanish island of Mallorca, with a selection of the most innovative products needed to work on his athletic qualities.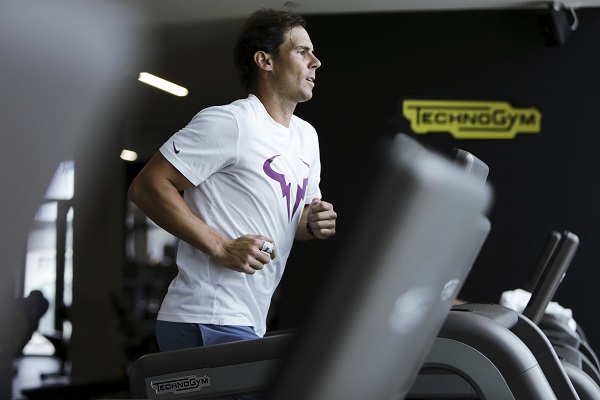 Among these are Kinesis, the patented technology that allows athletes to enjoy complete 360° freedom of movement to train stability, flexibility and posture in a single session; Thanks to Kinesis, athletes can simulate the technical gestures of a sport like tennis, which involves particularly intense movements.
Its personalized gym also includes a selection of Skill Line products, specially designed for athletic performance training thanks to Technogym's more than 30 years of experience with the best sports teams and champions in the world. They include Skillrow – the indoor rowing equipment designed to improve anaerobic power, aerobic capacity and neuromuscular capacity in one solution – and Skillrun, the new standard in performance running, which combines cardio training and resistance training to allow athletes to perform running sessions to improve their cardiovascular performance. performance, as well as resistance training to increase strength.
In addition to Nadal's sports preparation, Technogym is also an official supplier of the Rafa Nadal Academy by Movistar. Located in the Mallorcan town of Manacor, birthplace of Rafa Nadal, this top-tier academy combines tennis and education, so students can pursue their path to a professional career in tennis while continuing their traditional education.
Click here to contact Technogym Australia via their entry into the Australasian Leisure Management Directory of suppliers.
Images: Rafa Nadal trains with Technogym. Credit: Technogym.
Related Articles
February 2, 2022 – Australian Open 2022 scores with sponsorship and broadcast success
November 18, 2021 – Beatty Park Recreation Center plans $825,000 for gym equipment upgrade
January 27, 2022 – Australian Open spectator limit increases to 65% for remainder of tournament
November 9, 2021 – Technogym moves forward with design innovations
September 24, 2021 – New Technogym Experience Center opens in Sydney
July 30, 2021 – Technogym equips 25 training centers for the Tokyo 2020 Olympic and Paralympic Games
July 28, 2021 – Technogym equipment selected for new Waves Fitness and Aquatic Center in Hills Shire
July 19, 2021 – Technogym will host the Mywellness webinar
July 14, 2021 – Maroondah Leisure uses Technogym Mywellness technology to boost member engagement at Aquanation
June 24, 2021 – Technogym updates its digital resources to facilitate the restart of fitness clubs
17 April 2021 – Technogym equips refurbished gym at Broadmeadows Aquatics and Leisure Center
April 12, 2021 – New Technogym BIKE supported by online workouts
February 15, 2021 – The Technogym BIOCIRCUIT solution corrects the flaws of traditional circuit training
January 18, 2021 – Clublinks announces the launch of Technogym's SkillAthletic at the DeakinACTIVE Gym and Fitness Center
November 9, 2020 – Technogym's global campaign to promote exercise kicks off
October 19, 2020 – Technogym announces a week of exercises for the Let's Move For A Better World 2020 campaign
August 12, 2020 – Technogym launches a new outdoor fitness concept
April 24, 2020 – WTA Founder Roger Federer and Rafa Nadal Propose Merger of ATP and WTA
May 3, 2014 – Surfing Australia and Edith Cowan University Extend Sports Science Partnership
---
Support our industry news service
We hope you enjoy the news we post, so while you're here can we ask for your support?
As an independent publisher, we need reader support for our industry intelligence gathering, so ask – if you're not already – to support us by subscribing to the print version. Australasian Leisure Management magazine and/or our online news.
Click here to see our subscription options.