The Spokane, Portland and Seattle Railway is Classic Trains Railroad of the Month for August 2022
Please enjoy this photo gallery of Spokane, Portland and Seattle locomotives selected from files in Kalmbach Media's David P. Morgan Library.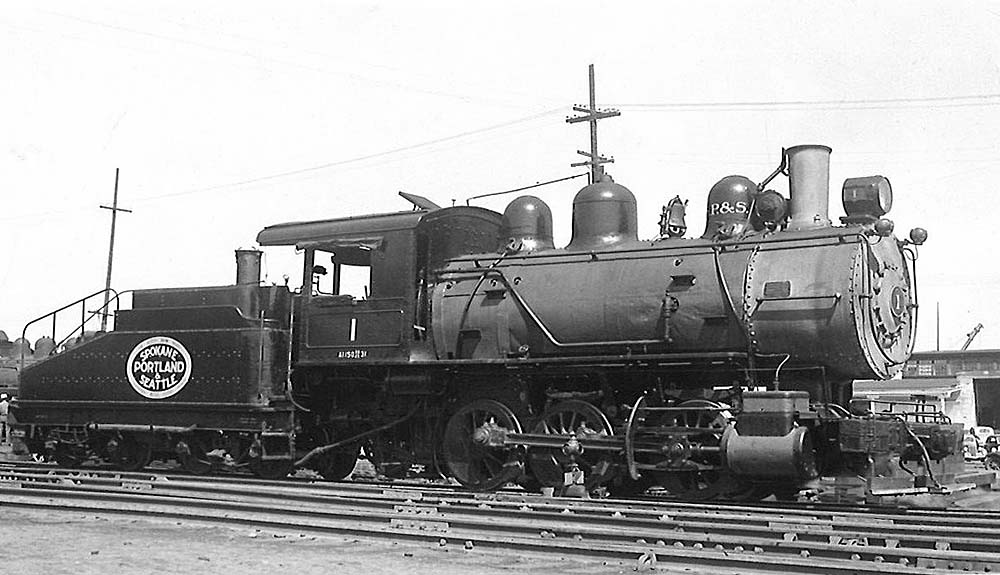 Number 1 on the list of Spokane, Portland and Seattle locomotives was a six-wheel switch, one of five built by Manchester in 1907. Photo by Donald M. Gunn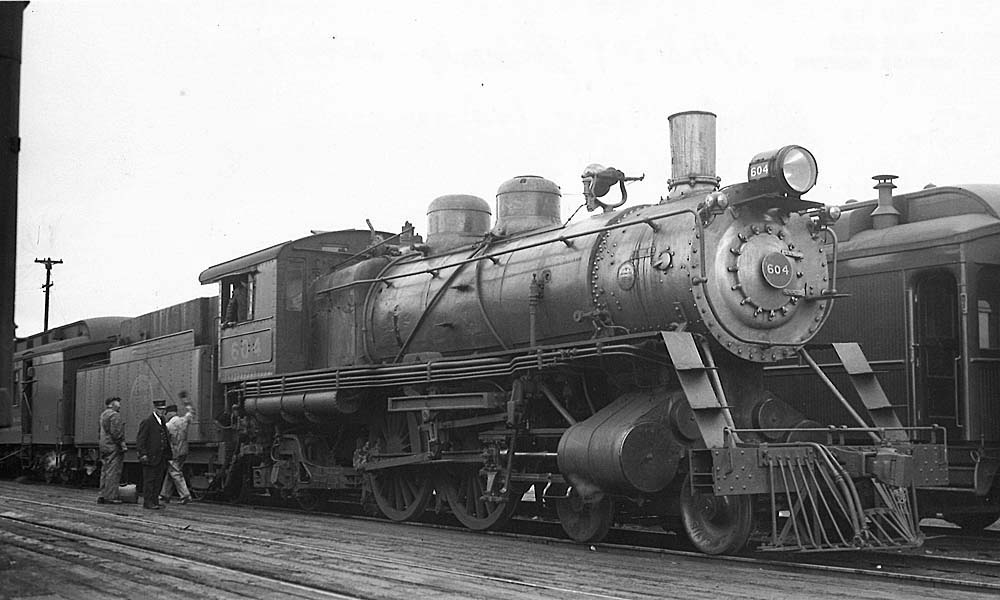 The SP&S Atlantics were duplicates of Great Northern's balanced compounds with inboard high-pressure cylinders driving the first axle and outboard low-pressure cylinders driving the second axle. Their reconstruction into simple locomotives and the addition of cast-iron trailing trucks fitted with a supercharger duplicated GN's modifications. SP&S retired the boosters in 1931, a year before this photo was taken. RV Nixon picture


Alco built 4-6-6-4 No. 911 in 1944, one of two Z-8 class locomotives on the Spokane, Portland, and Seattle locomotive roster. SP&S also had six Z-6 class locomotives, Nos. 900-905. Photo Alco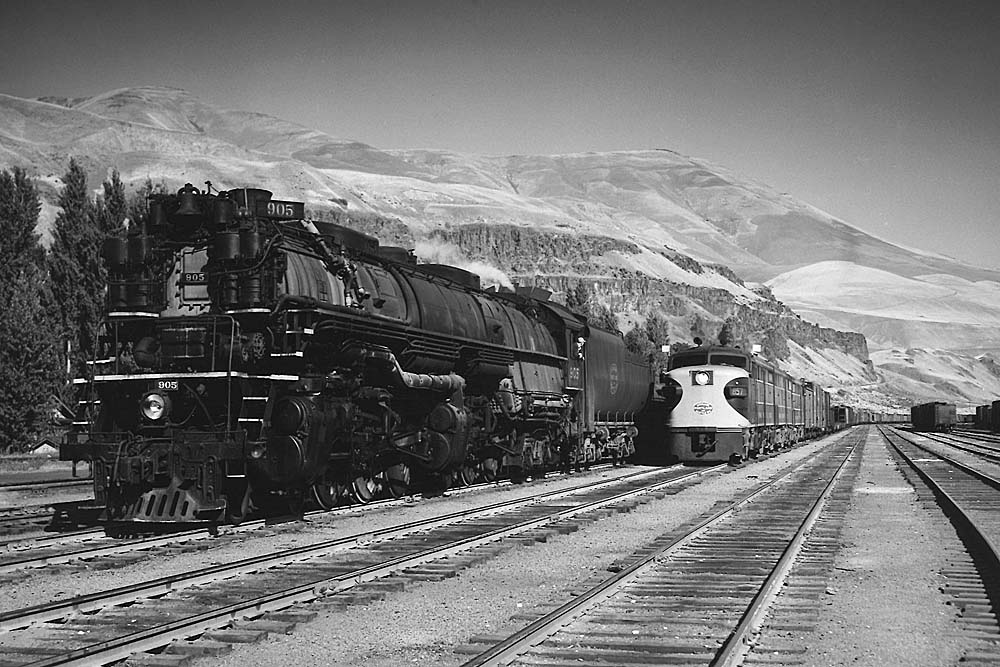 Symbolizing the transition from steam to diesel, at Wishram, WashSpokane, Portland and Seattle, 4-6-6-4 Z-6 steam locomotive No. 905 waits with westbound freight while three Alco cab units, led by FA1 857, arrive with a cargo drag in October 1952. Photo by Donald E. Smitch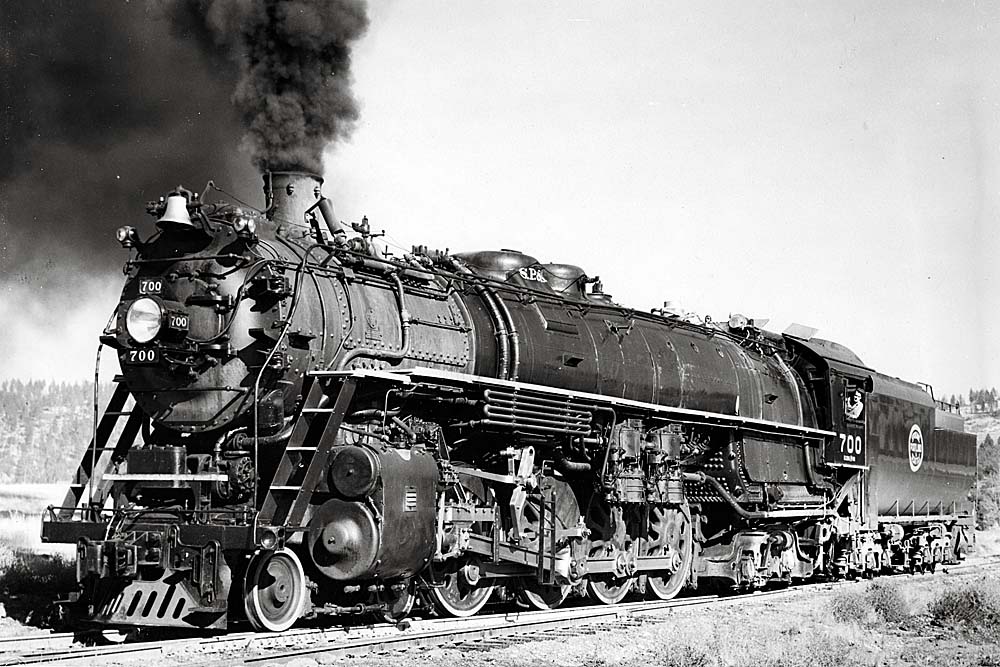 Modern passenger power arrived at the SP&S in the form of three 4-8-4s built alongside NP's A-3 Northerns. The only differences were in the combustion chamber and the tender – the SP&S locomotives were oil burners. No. 700 is preserved in Portland, Oregon. Photo HW Pontin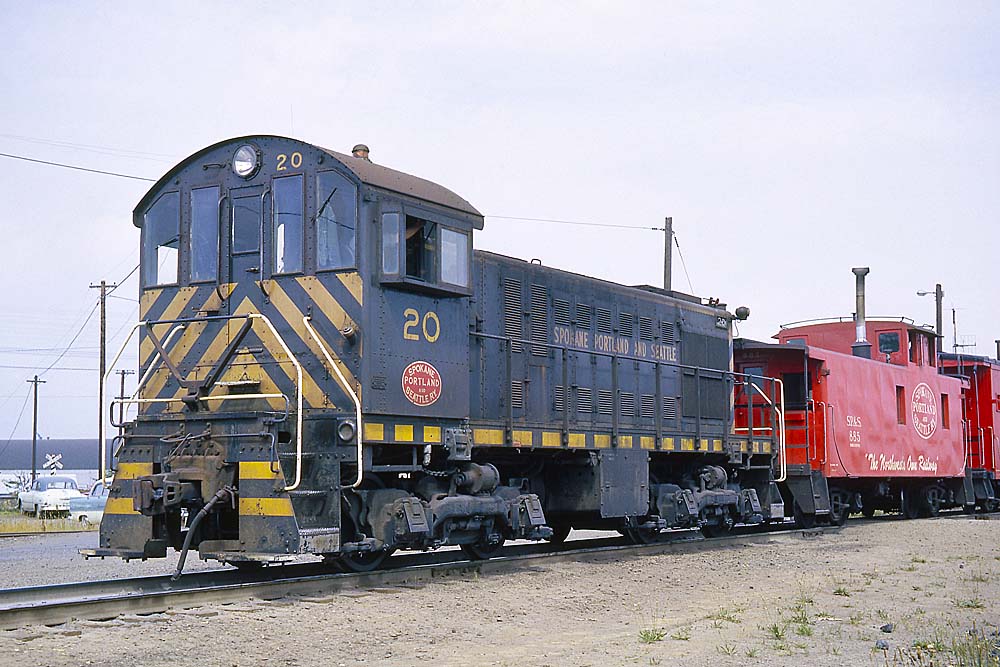 SP&S's first diesel, 1941 Alco S2 20 (one of nine, plus two S1s), operated in Vancouver in 1963. J. David Ingles Collection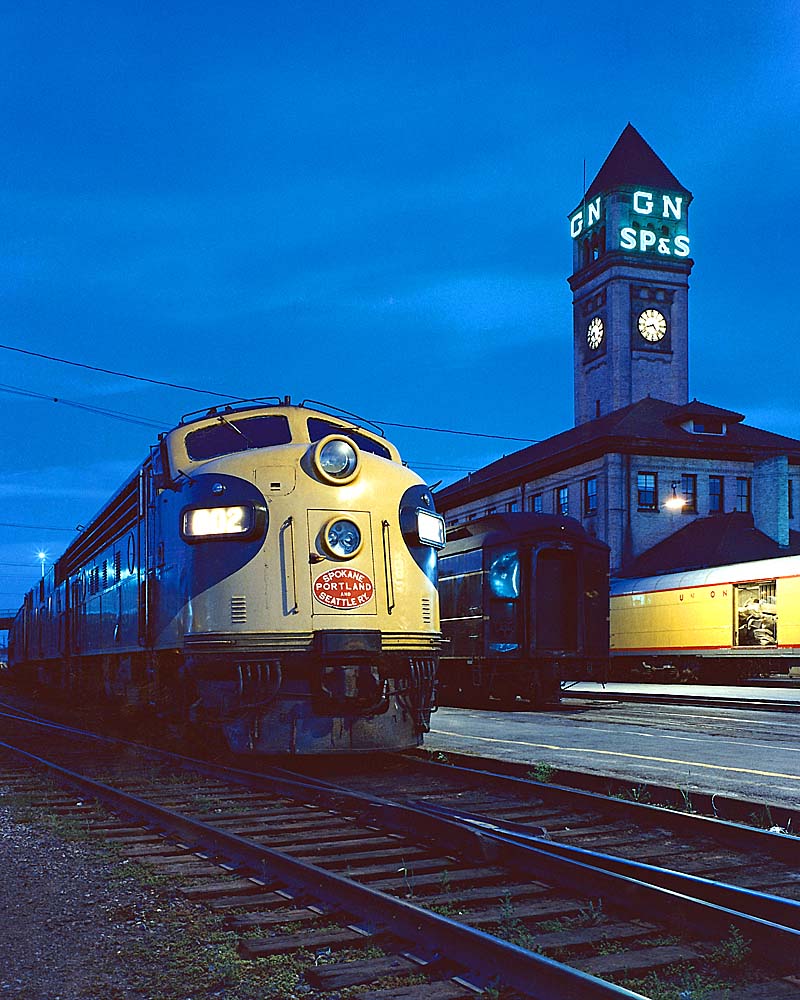 SP&S F3 802, plus the only E7 on the road, wait at the Spokane, Washington depot in 1965 for Portland cars off the Great Northern empire builder. Photo by Ron Sloan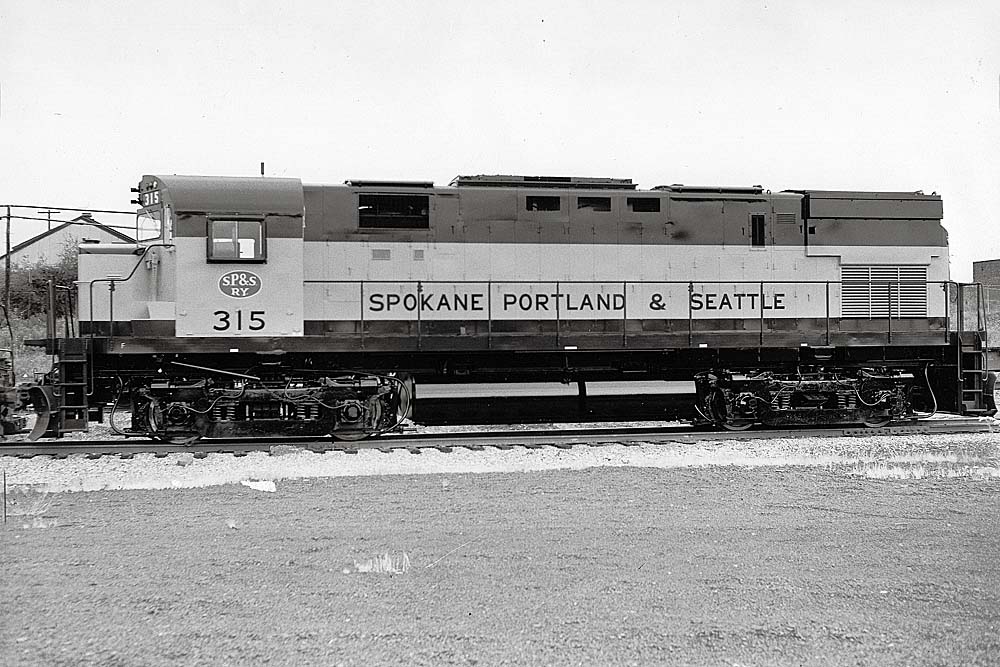 Spokane, Portland and Seattle had 28 Alco C425s, Nos. 310-327. The 2,500 hp C425 differed from the C424 in the use of a 16-cylinder 251C engine powering a larger main generator. The two are nearly identical, but the C425 has a square protrusion in the hood between the radiator opening on the side and the radiator overhang on the roof. Photo Alco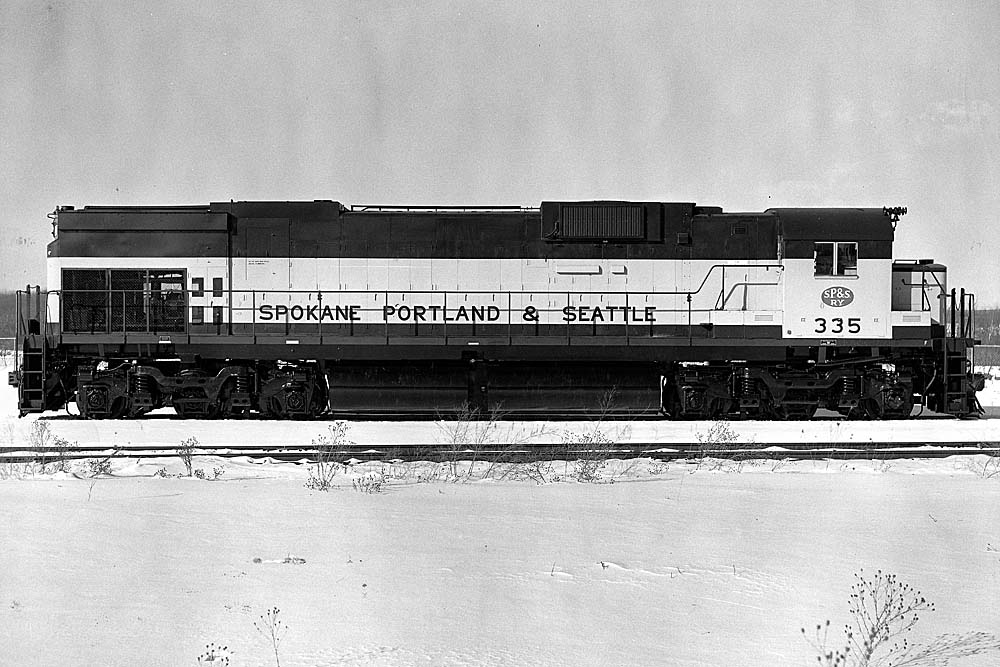 Spokane, Portland and Seattle had six Alco C636s, Nos. 330-335. They used a 251F 16 cylinder engine. All C636s built ran on Hi-Ad trucks. Photo Alco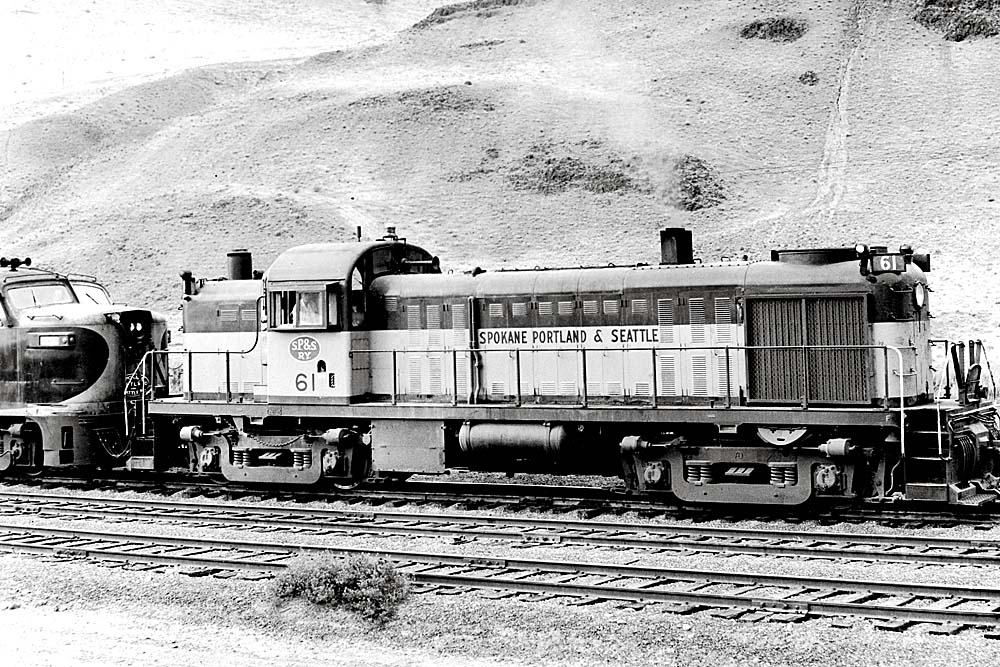 Number 61 is one of five 1,500 horsepower Alco RS2s owned by SP&S. The railroad also had the S1, S2, RS1, RS3, C415, FA1, FB1, FA2, FB2 and C636 models from Alco. Don Sims photo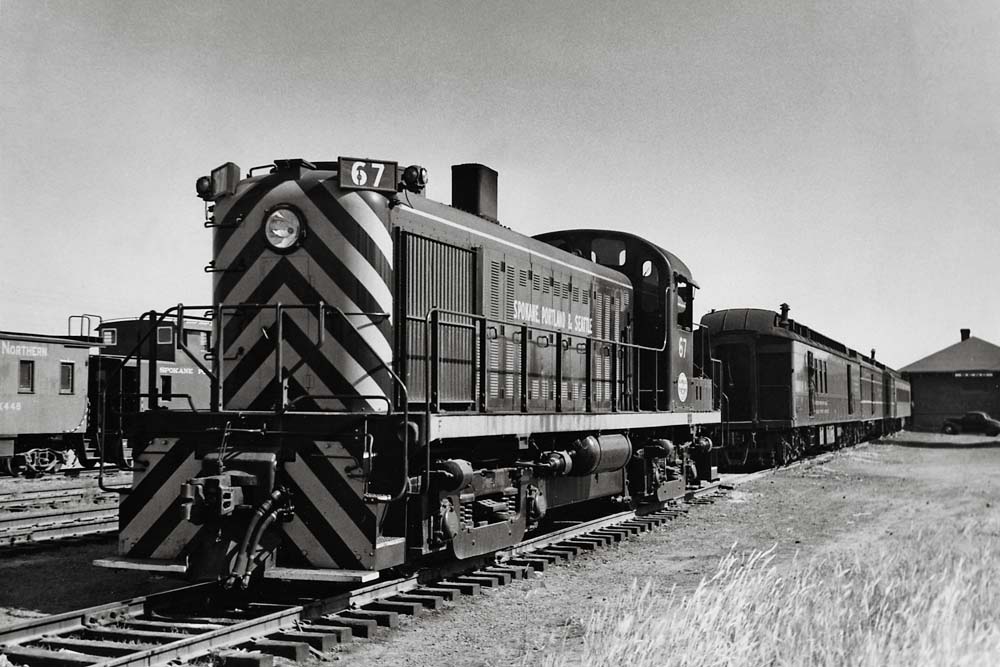 Alco RS3 67, one of 29, parked the mixed Oregon Trunk 102 passenger cars in Bend to await the 8 p.m. departure of the 103 for Wishram. Photo by John C. Illman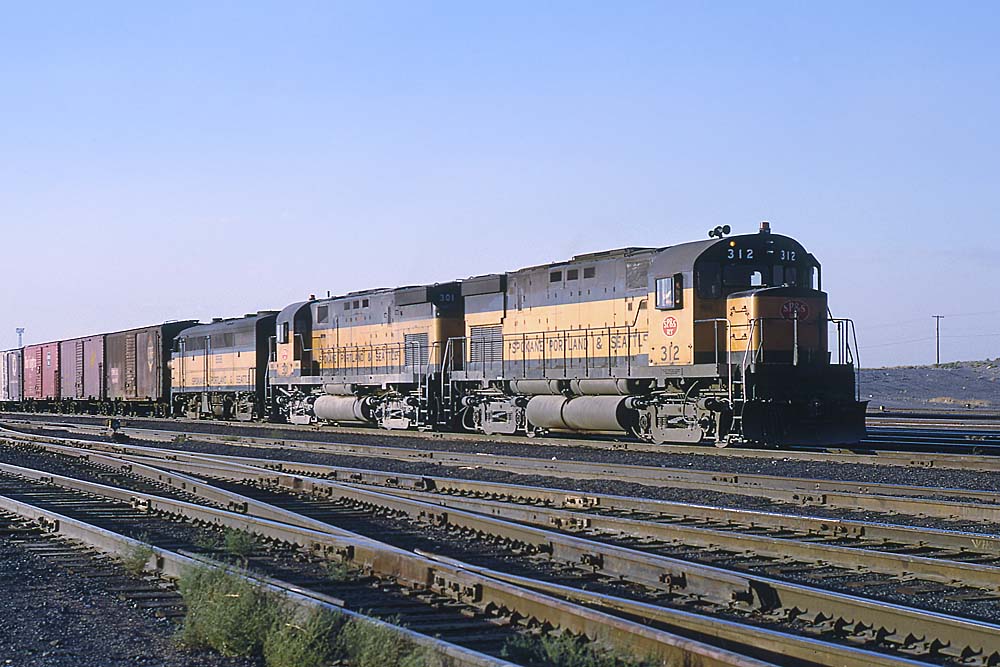 Ready to leave Pasco's NP yard in the fall of 1969 were C425 312 (one of 16), C424 301 (one of seven) and FA1 858 (one of 18). A dozen FAs were renumbered 4100s and served the BN after 1970. Keith E. Ardinger photo
The main locomotive shop for Spokane, Portland and Seattle was in Vancouver, Washington. Originally a roundhouse, it was supplemented by a four-lane, three-level diesel workshop in 1949 which replaced the roundhouse after the last switch to steam on June 23, 1956. Until 1937, SP&S primarily used power from his parents. Great Northern and Northern Pacific, but in 1937 received six NP-patterned Alco 4-6-6-4s (two of which were immediately sold to GN for the isolated Klamath Falls line), and two more in 1944. Three Baldwin NP- Patterned 4-8-4s were delivered in 1938, one of which, 700, has been restored and occasionally comes out of Portland. In the diesel era, the majority of SP&S's 115 units were Alcos (20 were EMDs and five were wartime Baldwin Switches), with mother roads finding their stepson an easy benchmark for "builder" units minorities".
Every month since October 2019, Classic trains the editors selected a Fallen Flag to honor. A Fallen Flag is a railroad whose name and legacy succumbed to bankruptcy, merger or abandonment, but whose memory lives on among railroad fans and historians today .
Find all our previous celebrations online.