Norfolk & Western is Classic Trains Railway of the Month for January 2022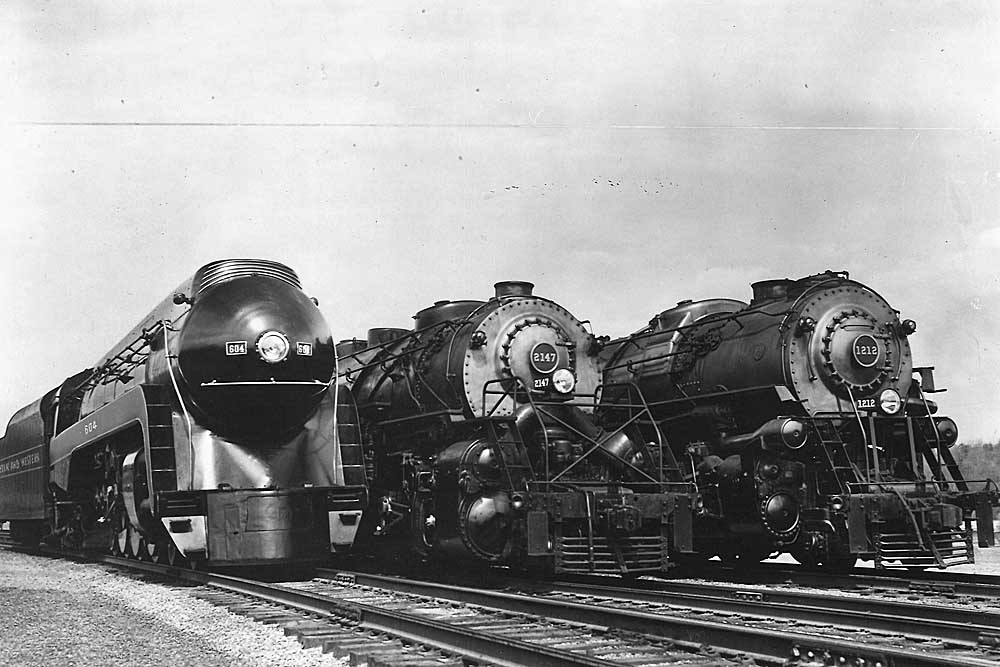 The Magnificent Three: J Class 4-8-4 No. 604, Y-6 Class 2-8-8-2 No. 2147 and A Class 2-6-6-4 No. 1212 resting at Roanoke in April 1943 Photos of Norfolk and West

A Norfolk & Western 4-8-0 returns to the mainline at Christiansburg, Va., with the 112 train, the daily except Sunday mixed, on the 9-mile branch from Blacksburg. The railroad had 286 locomotives of this type. No. 475, a 1906 Baldwin product, survives today at the Strasburg Railroad in southeastern Pennsylvania. Classic Trains Collection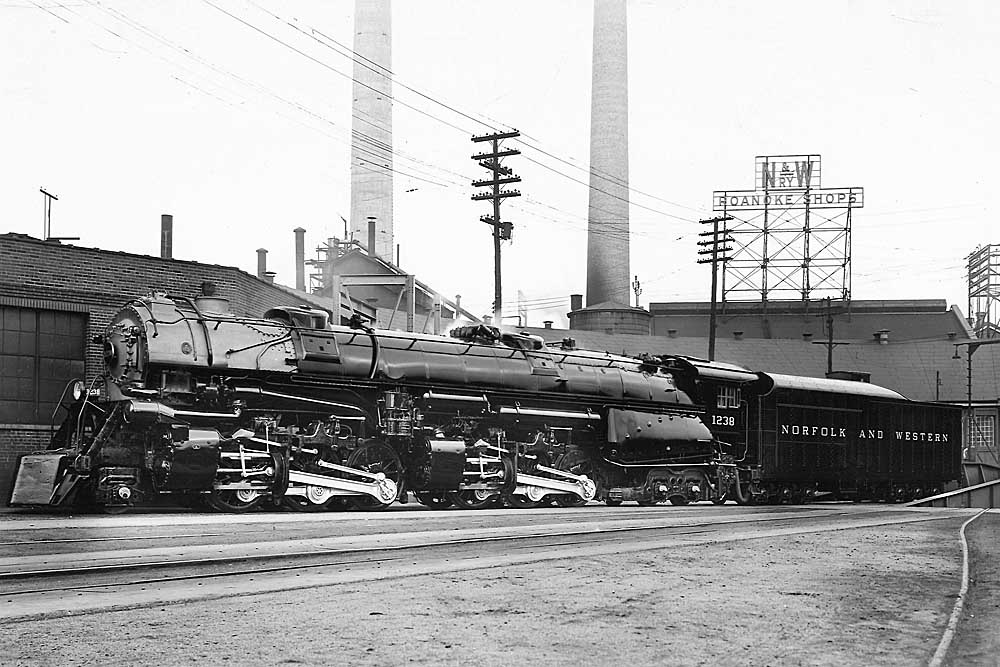 A Class A 2-6-6-4, #1238, poses for her official portrait at Roanoke. It was one of five articulated steam locomotives built in the United States with roller bearing rods. Photo of Norfolk and the West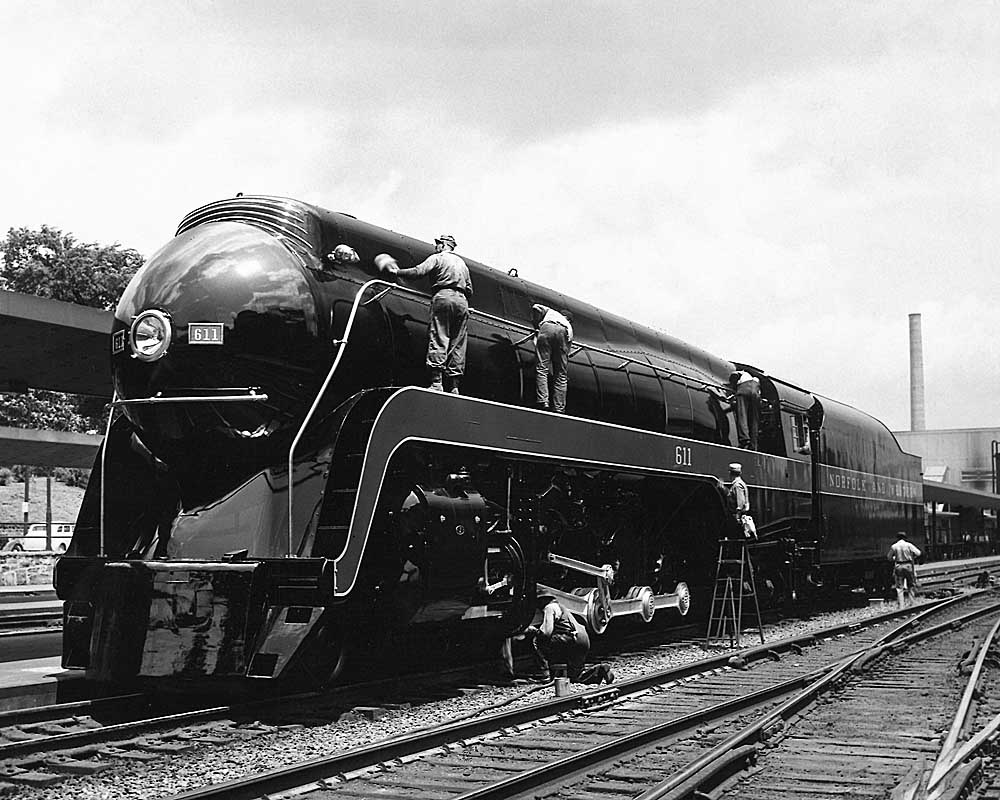 It's May 29, 1950, and no less than six workers are putting the finishing touches on the all-new #611 J Class 4-8-4 in Roanoke, Virginia. The railway built 14 between 1941 and 1950. Norfolk & Western Photo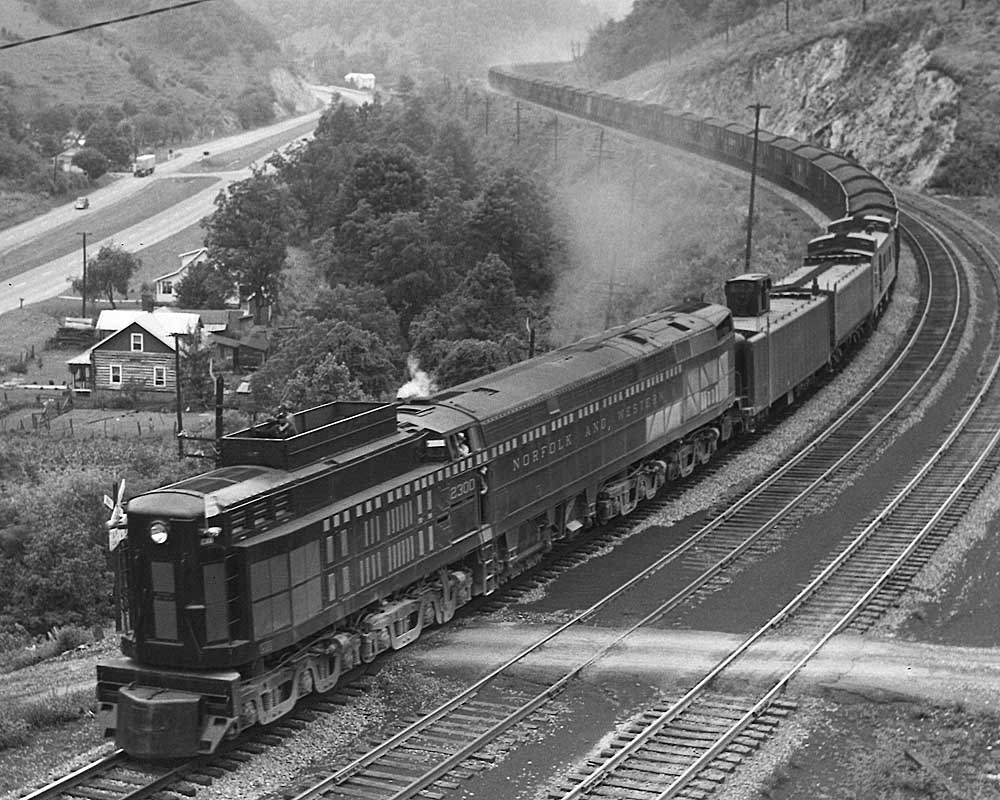 In May 1954, N&W took delivery of a steam turbine electric locomotive from Baldwin-Westinghouse. Numbered 2300, rated TE-1, and named Jawn Henry, it had a Babcock & Wilcox water-tube boiler operating at 600 psi, weighed 818,000 pounds, and was rated at 4,500 hp. The driver and the injector were controlled automatically. Photo by LeRoy A. Scott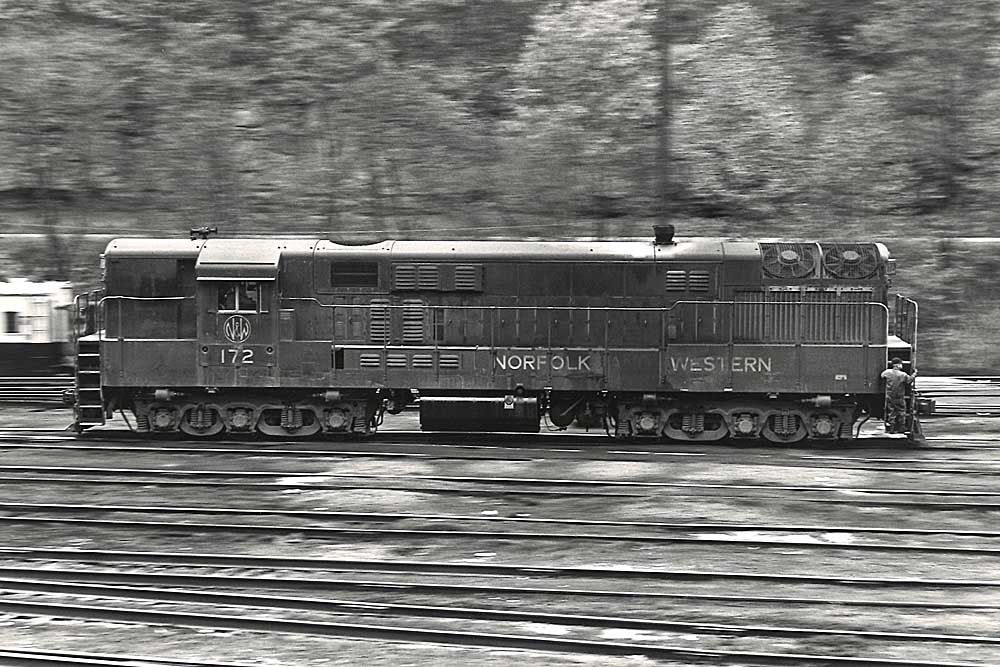 Fairbanks-Morse H24-66 No. 172 worked the yard in Elmore, W.Va., in the early 1970s. Norfolk & Western and Virginian (which N&W acquired in 1959) purchased the model new. P. Rickershauser photo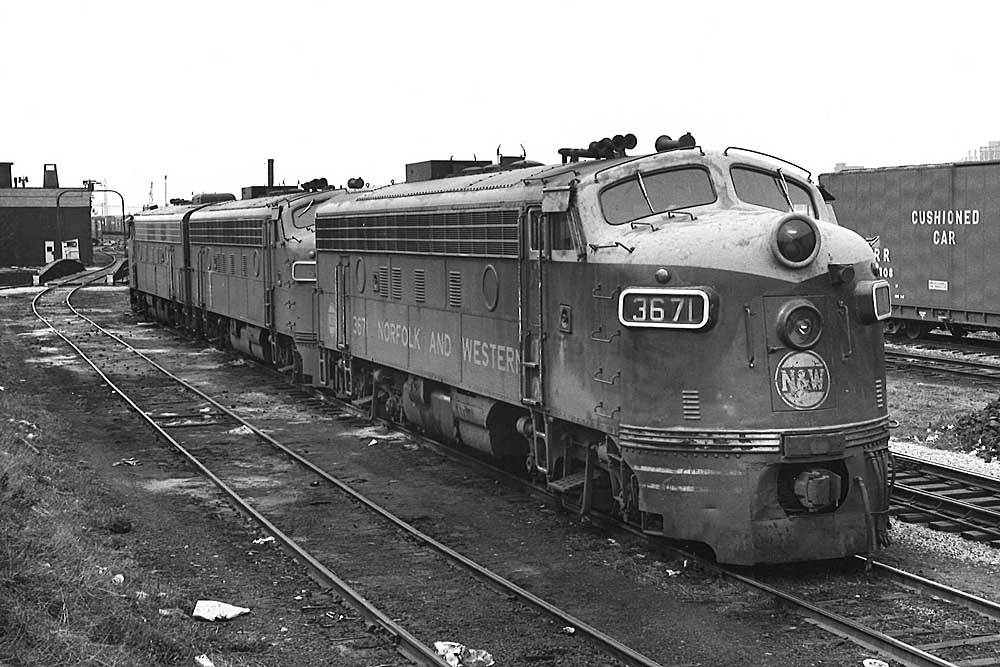 EMD F7s inherited the Wabash lay in Windsor, Ontario in April 1973. Some of the Wabash F units were built by EMD's Canadian subsidiary in London, Ontario and were limited to in-country service. J. David Ingles photo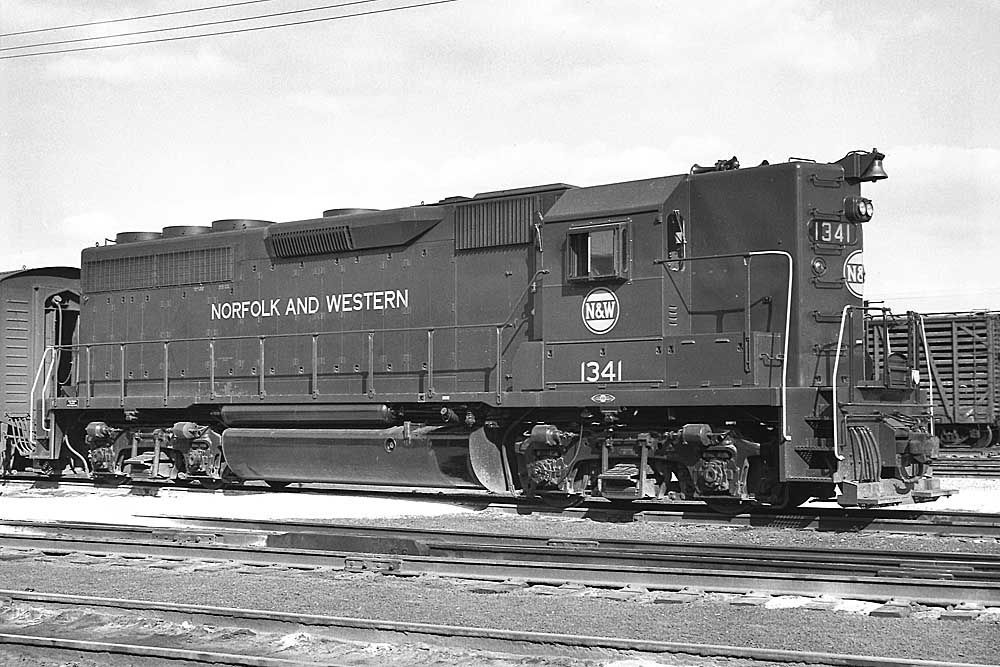 N&W's GP40s were built with tall, short hoods in accordance with the company's motive power policy at the time. These stood out from their contemporaries on other railroads. Louis A. Marre photo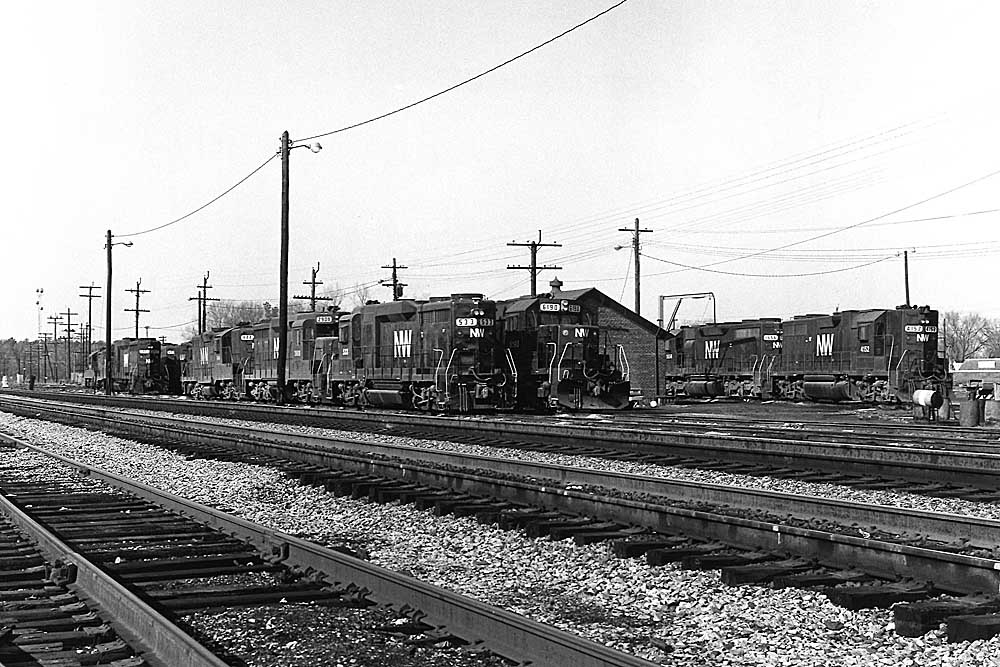 A plethora of power lines, ready for trains in Crewe, Virginia, in January 1981. Four GP9s, three GP30s and one SD40, SD40-2, GP38-2 and C30-7 are visible. Photo of Curt Tillotson Jr.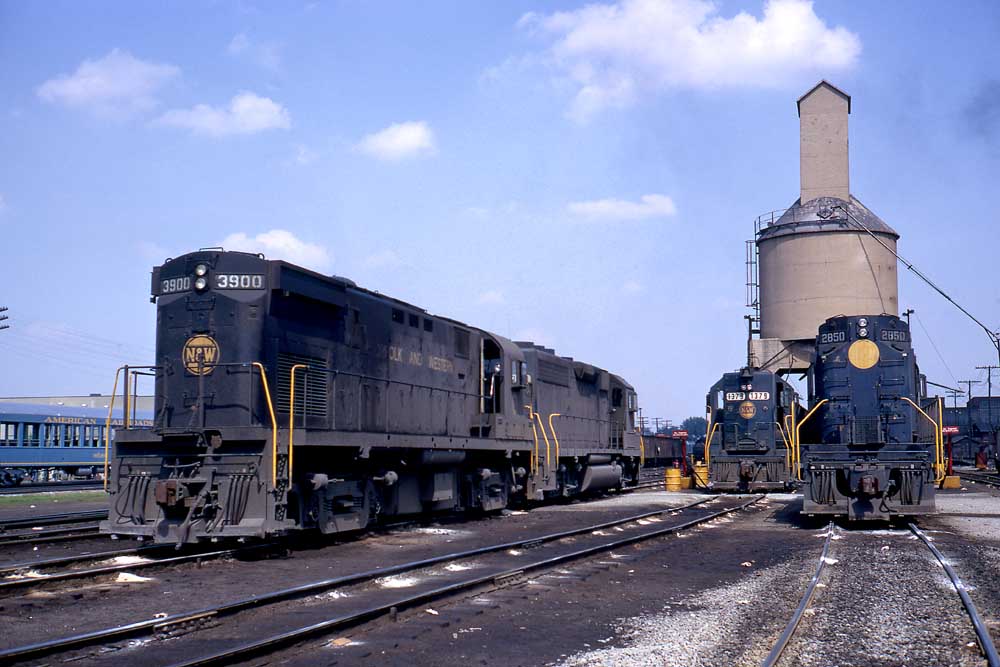 In Frankfort, Ind., in 1969, we find an ex-Wabash C424 built for Mexico, two GP40s and an ex-NKP RS11, among other units. The coal tower and part of the rotunda to the east are still standing today. J. David Ingles photo

Classic trains Publishers celebrate the history, heritage and style of the Norfolk & Western Railway throughout January 2022. So enjoy this photo gallery of Norfolk & Western locomotives selected from the archives of the David P. Morgan Library in Kalmbach Media.
Norfolk & Western locomotives saw service in the coalfields and later in high-speed freight in the Midwest. For this reason, the railroad had some notable steam locomotive wheel arrangements, such as the 4-8-0 and 2-6-6-4, and legendary horsepower such as the Class J 4- 8-4 simplified.
The railroad did not purchase new cab units, but inherited both F7s and E8s from Wabash and Alco PAs from Nickel Plate. Later Norfolk & Western locomotives retained the high short cowls which were important in the early years of dieselisation, but fell out of favor on other railways.
Only on Trains.com!