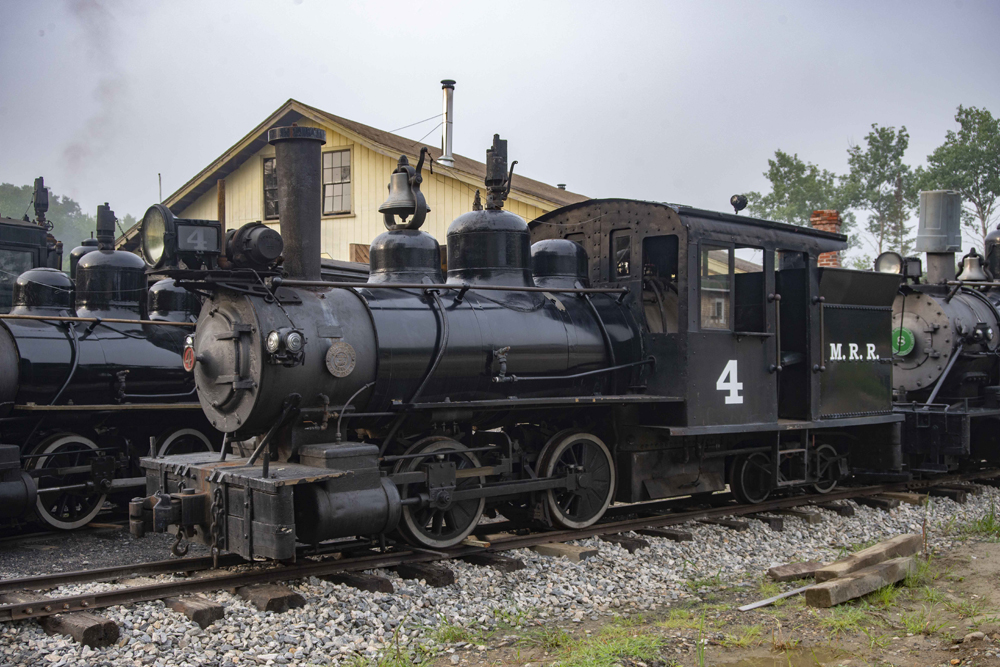 PORTLAND, Maine – Looking to the future, the Maine Narrow Gauge Railroad Co. and Museum plans to refurbish two more of its 2-foot-gauge steam locomotives, in addition to the two currently in service.
The announcement was made during the Wiscasset Summer Picnic, Waterville & Farmington Railway Museum earlier this month, where two 2-foot Maine Narrow Gauge steamers and one belonging to WW&F put on a show, making run eight trains that day.
The two engines to be restored were on display that day, bringing together the five remaining 2-foot Maine steamers. These are Monson Railroad 0-4-4T No. 4 (Vulcan Iron Works, 1918) and Bridgton & Saco River Railroad 2-4-4T No. 8 (Baldwin Locomotive Works, 1924). MNG's operating locomotives are the Monson Railroad 0-4-4T No. 3 (Vulcan Iron Works, 1912) and the Bridgton & Saco River Railroad 2-4-4T No. 7 (Baldwin Locomotive Works, 1913). WW&F's operating locomotive is WW&F 0-4-4T # 9 (Portland Co., 1891), formerly Kennebec Central # 4, Sandy River & Rangeley Lakes Railroad # 6, and Sandy River Railroad # 5.
Maine Narrow Gauge and WW&F regularly partner with Maine Locomotive & Machine Works to run their equipment between sites. MNG operates a 1.5 mile waterfront line with a terminus in downtown Portland, while WW&F is based 80 miles north in rural Alna, Maine, and spans over 3.3 miles of original WW&F right-of-way. Between 1879 and 1943, Maine was only home to five 2-foot-gauge mass transit railways and had some 200 miles of such lines.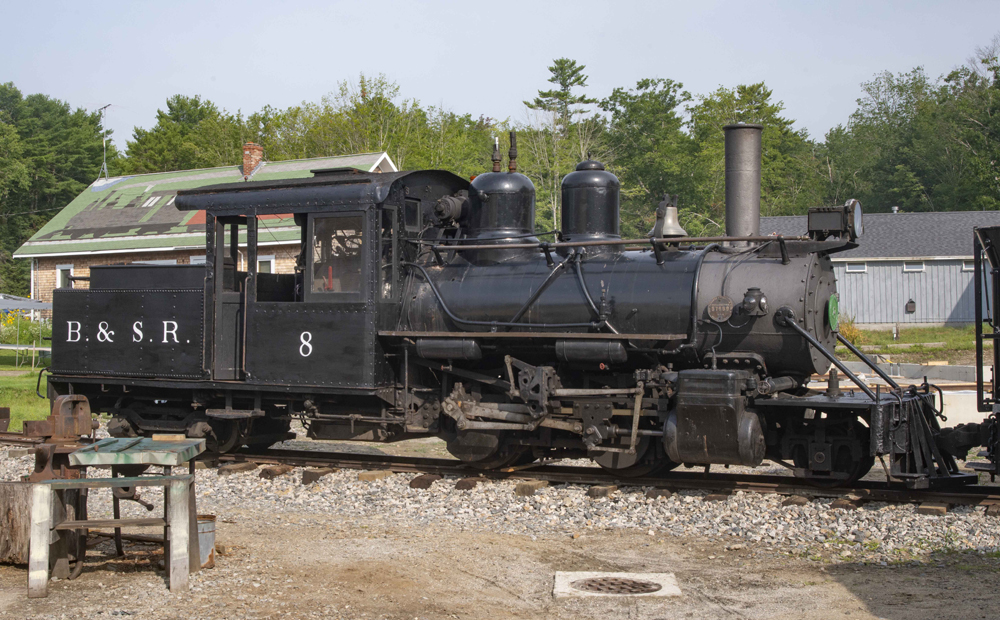 On the planned restorations of n ° 4 and 8, Eric Mencis, responsible for visitor services at Maine Narrow Gauge, explains the group's approach as follows:
"We know what problems they have now. Why not make them work so that future generations can make them work? That way, they won't have to fix the issues. We don't want to leave future generations with this.
Both engines need new boilers, which were last replaced at a former heritage site, the Edaville Railroad in Massachusetts, Mencis says. "They (Edaville) had them replaced in the 70s or early 80s, but they need a lot of work to get them up to speed. [Federal Railroad Administration] coded.
"New boilers for both locomotives will keep them running longer and better for the museum. This is probably the most economical way [rather than making repairs]. They are just exhausted.
Several years ago, MNG lost its museum exhibit building in Portland due to development. With it went the ability to house its historic collection of rolling stock which was a main attraction. Much of this equipment has been moved to covered protection at Alna, as the Wiscasset, Waterville & Farmington website explains.
With the relocation of these assets, Mencis says, "We want to make sure that we are up to the task of showing the equipment (here), operating the equipment and using it as a tool to teach people. "
"We need [these engines] be that historic presence in Portland. Run the [museum's General Electric] diesel is great – diesel is beautiful, it looks good – but it doesn't feel like a steam engine.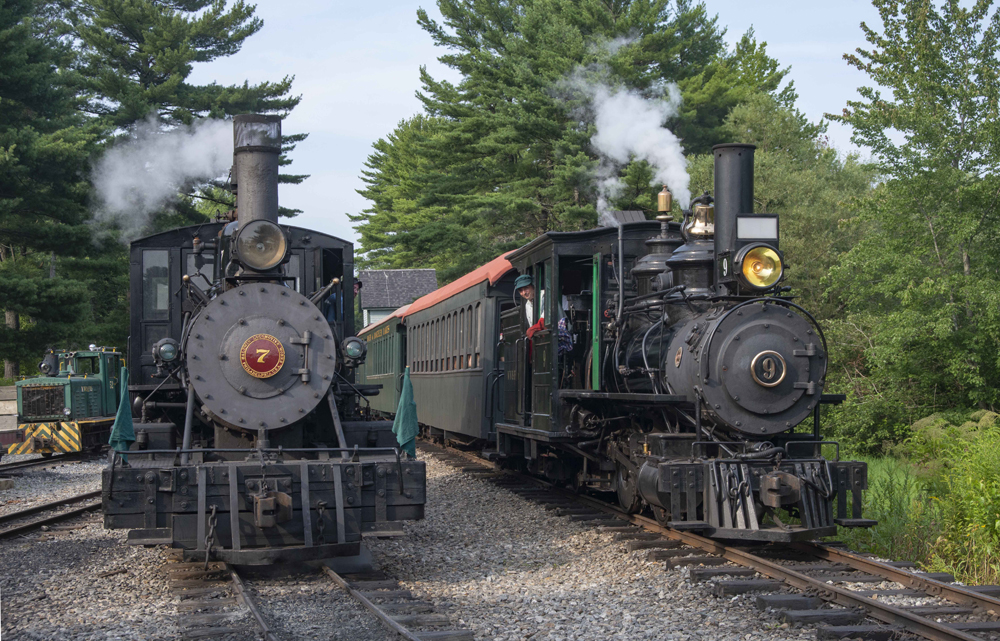 When the public sees the MNG diesel, Mencis says, "Question # 1 we get is, 'Oh, does this thing work?' But when they see the steam engine, it's alive and they say, "It's a steam engine. Steam is an important aspect.
Another factor is that ridership is expected to increase as the COVID pandemic subsides and bus tours for New England's fall colors resume. "We wanted to make a plan to have steam every time a cruise ship is in town," Mencis said. When that happens, he said, "it would almost mean running a steam engine every day in September. So it's a good plan to have all four in operation.
Of the two engines planned for restoration, he said, the Monson No. 4 will be the easier, because "the museum in recent years has done a good job on the running gear on the 4. It only needs the boiler; the running gear is almost ready to go.
In contrast, he said, Bridgton & Saco River No. 8 "is a complete rebuild, boiler and undercarriage, and it will take a little longer." Also, this engine is the largest of Maine's surviving 2-footers, he noted.
"It's a 40-ton locomotive," he says. Considering the engines alone and not a tender, "this is the same size as some of the Rio Grande 3ft 2-8-0". In contrast, the usable Monson No. 3 from the Maine Narrow Gauge weighs 13 tons.
Having more locomotives in working order makes it easier to turn engines in and out of schedule, says Mencis: "If one breaks down, we can continue" without a hitch.
Improvements to the Maine Narrow Gauge website and signage are planned to make it easier to donate to the Engines 4 and 8 Restoration Campaign, including the use of a QR code to enable digital contributions by cell phone.
Further information is available on the Maine Narrow Gauge, Wiscasset, Waterville & Farmington and Maine Locomotive & Machine Works websites.