Estimated reading time: 4-5 minutes
To succeed in the real world, students need real-world skills. A recent survey by the Ewing Marion Kauffman Foundation found that nearly half of employers prefer candidate experience over a four-year degree for their hiring criteria, meaning apprenticeships and technical certifications are more important. than ever.
And this is where local businesses come into play. By partnering with the new Utah Adopt-A-School program, businesses can partner with Utah's education system to engage in meaningful workforce development. Students gain invaluable work experience and companies can offer meaningful engagements. It's a win-win!
To see the difference your business can make, consider the following case study.
Stadler Rail's apprenticeship program prepares students for success
Stadler Rail is a passenger train manufacturer founded in Switzerland 80 years ago. In addition to multiple manufacturing and service locations across Europe, the company also has a US location right here in Salt Lake.
Utah Adopt-A-School became involved with Stadler Rail because they already had a higher education apprenticeship program in place called TRAC (Talent Ready Apprenticeship Connection). TRAC was launched in 2019 in collaboration with the Governor's Office of Economic Opportunity, Talent Ready Utah, the Salt Lake School District, and the Salt Lake Education Foundation.
The three-year apprenticeship program allows students to earn associate degrees debt-free while gaining hands-on experience in a real-world work setting. Beginning in their final year of high school, apprentices take classes and receive part-time practical training at Stadler Rail. After high school, they take special courses developed by Stadler Rail and SLCC and work more hours with the company.
At the end of the third year, students earn a degree in hand, three years of invaluable work experience and several options. They can work full-time for Stadler Rail, earn a bachelor's degree with Stadler's tuition reimbursement option while continuing to work for the company, or take up similar jobs at other companies with their new knowledge and skills. .
"The aim of the program is to open up a wider experience for them so that they can really see what they could do," says Lucy Andre, chief of staff at Stadler Rail. "And having those kinds of professional skills never hurts."
Earn a salary and a degree simultaneously
While the debt-free associate's degree might be enough of an incentive (especially given that NerdWallet reports that 42.9 million Americans have student loan debt), that's not the only reason students commit and stick to the program. Stadler Rail provides student mentorship and a support system to help apprentices graduate while earning a salary. (Yes – they get paid while they work and learn.)
Freshmen can earn $11 per hour, sophomores up to $13.50, and sophomores up to $17. Salary is based on job performance and grades.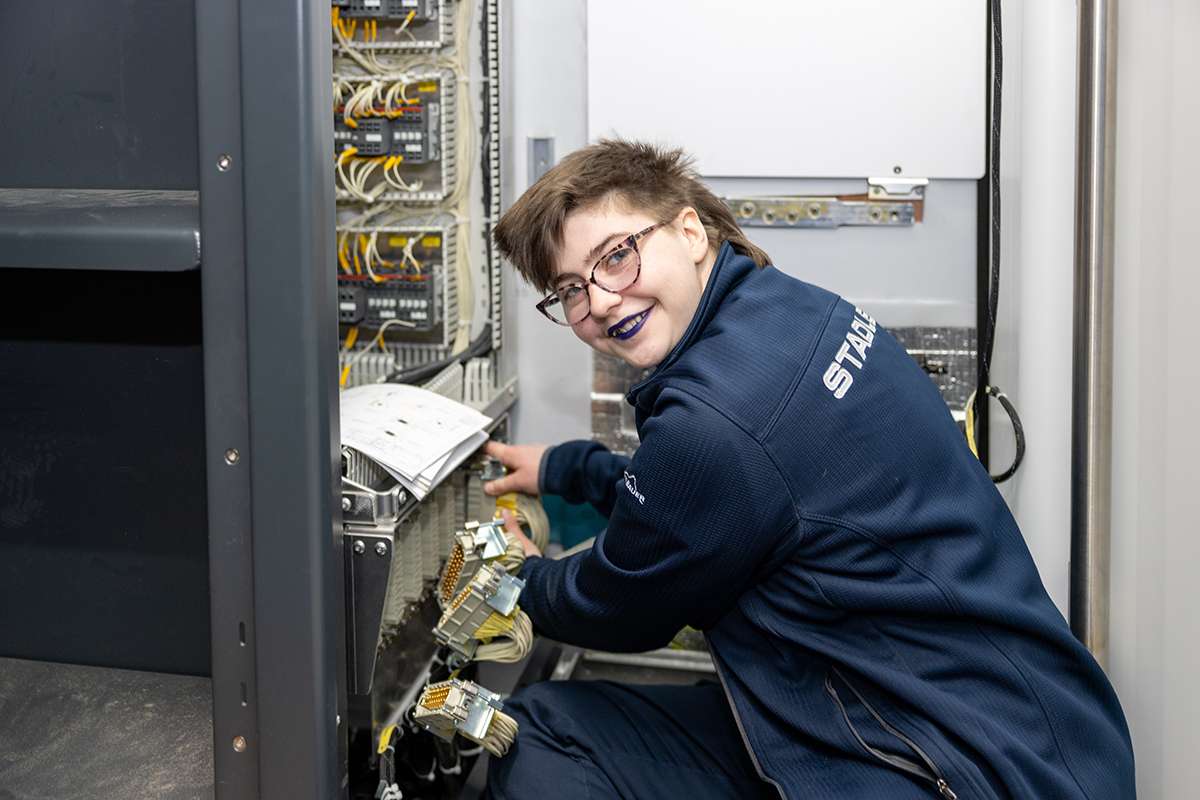 Here's what the students are saying
Many high school students aren't sure what they want to do after graduation. Many of them earn college degrees in fields they ultimately dislike, only to be stuck with huge student debts to pay off. Thanks to the TRAC program with Stadler Rail, apprentice Gigi Earnest-Stippich is not one of them.
"When you've finished your apprenticeship, not only will you have marketable qualifications, like a degree, but you'll have more work experience than most people our age can claim. It's amazing!" said Earnest-Stippich. "I started my apprenticeship not knowing if I would stay in this field, but I knew I could start a career to support myself so that I would have the opportunity to go to school in the future."
A mutually beneficial experience
Stadler Rail is proud to engage with young adults in the community and hopes other businesses will follow. The apprenticeship program, in particular, has proven to be just as beneficial to their business as it has been to the students.
"It's good business for the students, but you know what, it's even better for us," Andre told KSL earlier this year. "We are gaining skilled employees who not only contribute to our workforce, but to our community for years to come."
The TRAC program currently has 22 students enrolled in two districts – Salt Lake and Davis. Seven students who started the program in 2019 are expected to graduate this summer.
How to Participate in the Adopt-a-School Initiative
Getting involved is easier than you think. If your business also wants to make a difference in the lives of young people, just tell Utah Adopt-a-School how you want to help serve Utah students and they'll connect you with a school whose needs match yours. Goals. After completing an online assessment, a member of the Talent Ready Utah team will work with you to find a good match in the community.
×
More stories that might interest you