DB Cargo UK has launched a new campaign to promote safety excellence across the business.
Its aim is to make all staff feel confident enough to question any activities that may affect them, and it is already receiving positive feedback.
DB Cargo UK Safety Intervention Card
© DB Cargo
All employees have been issued a Safety Action Card which gives them the authority, backed by management, to challenge any activity or instruction they deem unsafe – whether by or by a co-worker, customer or sub-contractor. treating.
They are then encouraged to follow the 'stop, discuss, resolve and review' process that DB Cargo UK has seen used effectively in other industry contexts.
The campaign, titled 'Together. We are safer. Together. We're DB' is the result of the company's largest ever security research project, held last year and consisting of a series of in-depth staff focus groups.
It was developed in conjunction with design agency Studio Up North (SUN), who took the results of the study and visited sites to understand what DB Cargo UK was aiming to achieve.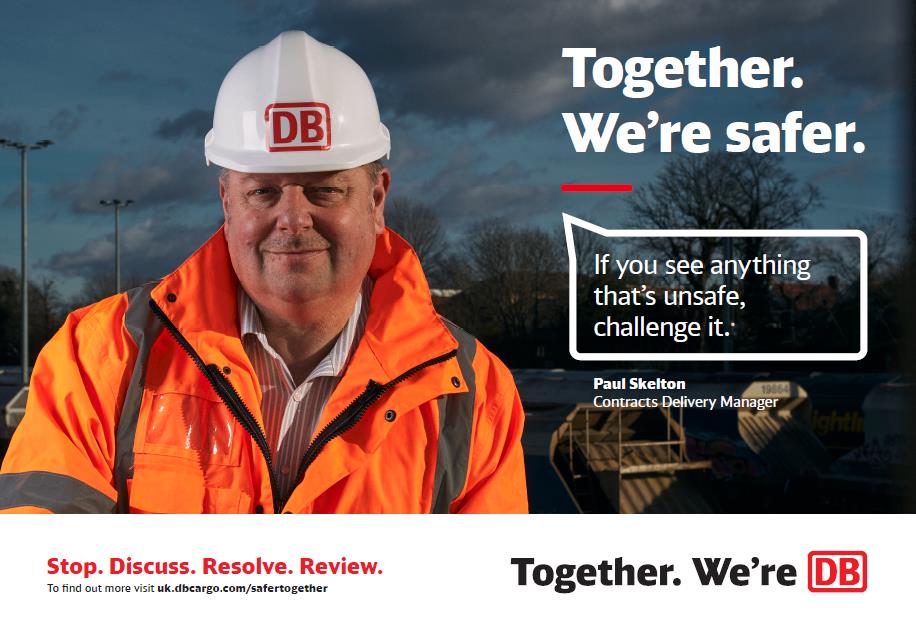 DB Cargo UK safety campaign poster featuring staff member Paul Skelton
© DB Cargo
The campaign is supported by new behavioral safety training, which will be rolled out to ground staff, engineers, drivers and asset owners over the coming weeks.
"If we are to be successful in maintaining a positive and healthy safety culture where colleagues are comfortable challenging unsafe acts and open to questioning each other, then we need to work together and look out for each other.
"Allowing colleagues to step in when things don't seem safe – even if their concerns ultimately turn out to be unfounded – shows they care and won't be criticized for it.
"We want our colleagues to step in with the assurance and confidence that they have the full support of the company to do so."