---
WASHINGTON — Members of a key congressional committee on Wednesday expressed frustration with widespread rail service issues and the Surface Transportation Board's response.
"The facts are undeniable. Freight service in the United States of America … is abysmal," said Rep. Peter DeFazio, the Oregon Democrat who chairs the House Transportation and Infrastructure Committee.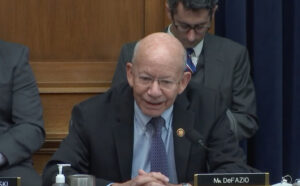 DeFazio said the STB, which held a two-day hearing on rail service last month, was moving too slowly as shippers and the economy suffered from poor rail service. The STB must act quickly and decisively to resolve the crisis or Congress will have to step in with new regulations, he told the five-member STB.
Board members were present during the hearing that was convened regarding the reauthorization of the Surface Transportation Board, but instead focused much more on what can be done to improve Class I rail service.
STB Chairman Martin J. Oberman told the Railroads, Pipelines and Hazardous Materials Subcommittee that the rail service problems are due to a shortage of railroad labor. And the cause of the labor shortage, he says, is a massive wave of layoffs of train and engine crews and other railway workers over the past six years.
Wall Street's demands for higher profits prompted the railroads to cut resources — including crews, locomotives and yards — so deeply that there was no cushion left to respond to a crisis like the pandemic or bad weather, says Oberman.
"The rail industry's problems are self-inflicted," he says.
Last week, the STB ordered the railways to provide more service and staffing data, submit service recovery plans and explain what they are doing to speed up their networks. Last month the council sought to expand its powers to issue emergency service orders in specific cases. And the board also hopes to make decisions this fall on two ways for shippers to challenge rates, Oberman said, followed by a decision to expand reciprocal switching.
Some committee members, wary of new regulatory burdens on the rail industry, questioned whether the STB's actions might make things worse instead of better. "The supply chain has been so strengthened by the railroads that anything we can do, I think, would only make it better," Oberman says.
DeFazio questioned whether the obligation of railroad common carriers to provide service on reasonable demand should be further defined. "Is the common carrier's language too vague to prevent these service cuts?" Because we can redefine what it means," says DeFazio.
Oberman says the STB has the authority to further define the common carrier's obligation, but has struggled to find practical language that would apply broadly and be enforceable in court.
"When I hear that you hope to do something by the end of the year, it doesn't help me much here. I feel a lot more sense of urgency," DeFazio says.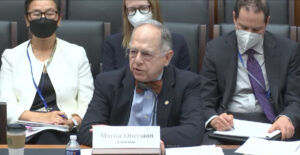 Oberman said the council would be happy to work with the committee on drafting a stricter definition of common carrier.
DeFazio criticized Class I railroads' multi-billion dollar stock buyback programs and dividend increases. "Can you suggest something that we can [do to] deal with this egregious behavior by these people," asked DeFazio, STB member Robert Primus.
Primus said he shares DeFazio's concerns, noting that publicly traded Class I systems bring in more money to shareholders in the form of buybacks and dividends than they spend maintaining and growing their networks. "There needs to be a refocusing of priorities," Primus said.
But Oberman said telling Wall Street how to behave is beyond the board's mandate.
Oberman suggested that service standards could be incorporated into the common carrier obligation. "For me, the way forward is to change the incentives and not try to micromanage how they run the real railroad," he explained.
Some of the Democrats on the committee, including DeFazio, have been highly critical of Precision Scheduled Railroading, which has led to significant railroad job cuts since 2017.
Oberman's written testimony is available here, while a recording of the hearing is available on YouTube.