---
WASHINGTON — Canadian National, which lost Kansas City Southern's battle to rival Canadian Pacific last year, tried to cast doubt on the CP-KCS merger during lengthy testimony before federal regulators on Thursday.
CN criticized the operating plan prepared by CP and KCS, telling the Surface Transportation Board that it was based on data flaws so severe that regulators should question the entire merger.
CN said CP and KCS did not provide traffic data for certain line segments that would be affected by the merger, such as on the CN and Metra tracks that CP uses in Chicago to reach Schiller. Park Yard, while offering inconsistent volume and tonnage data for other line segments.
But board member Patrick Fuchs wondered how line segment data would make a difference to the STB's overall review of the merger. He also asked CN to provide examples of how the Board could impose a condition based on CN's preferred traffic numbers instead of CP's data.
CN could not find an example, but said data inconsistencies cannot provide the board with confidence that CP and KCS can successfully implement their operating plan.
Problems if CPKC achieves growth – or if it doesn't
CN said the CPKC merger could go one of two ways — and either scenario would spell trouble for other Class I railroads and their customers.
First, CN said there was a risk that if CPKC succeeded in diverting traffic to expected levels, the merged system would stifle its growth. CP and KCS say that after the third year of their merger, they plan to increase their tonnage by 20%, but CN points out that CPKC plans to manage this growth with only 5% train crews and more locomotives and a fleet of locomotives that is only 1% larger than the current one. levels.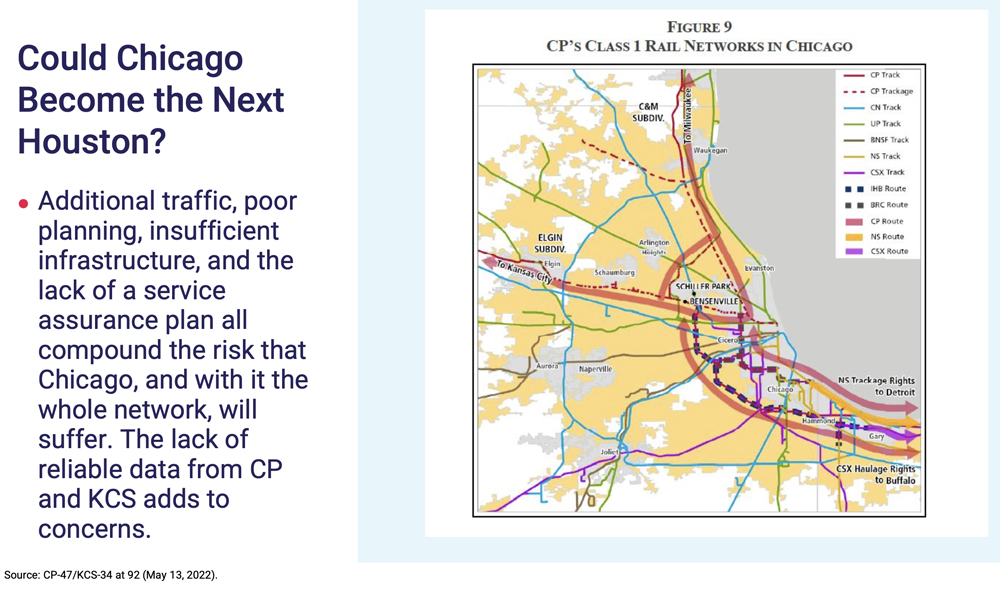 CP and KCS currently interchange three trains a day in Kansas City, the only places their networks touch. But CN said the merger-related increase in traffic would melt the fragile Houston terminal, Chicago and the rest of the rail network, as CPKC is unprepared for operational issues and ignores potential bottlenecks. .
Board member Karen Hedlund asked how adding eight CP trains a day west of Bensenville Yard would create congestion problems in Chicago, a terminal that handles hundreds of trains a day. CN chief operating officer Rob Reilly said CP's increased volume could have an impact at specific points, including between Bensenville Yard and Schiller Park Yard, which CP reaches via a combination of Metra and CN tracks.
Second, CN stated that CPKC may not achieve its merger synergy goals. CN doubted CP's and KCS's operating savings projections. CN said CPKC's operating ratio target of 57.5% — well below its combined operating ratio of 65% from 2015 to 2019 — signaled the railroads would cut costs . And CN questioned whether CPKC could divert traffic from other railroads at a projected 30% operating rate when merged railroad routes average 217 miles longer than single-line routes. single existing.
A failure to meet traffic volume and financial targets, CN says, will then force CPKC to throttle the interchange at Laredo, Texas, the border crossing and other key access points to force diversions. of traffic to the merged railway.
Fuchs asked CN what its operating ratio target was for 2022 following layoffs announced last fall in an effort to cut costs. The answer: 57%, half a point below the CPKC's projected figure that CN had criticized.
Fuchs also asked what the last end-to-end merger was, whether it generated significant operational savings, and whether the railroads submitted a service assurance plan. CN pointed to its own 1999 merger with Illinois Central, which generated operational savings and ran smoothly despite the lack of a service assurance plan.
Skepticism over Springfield Line's offer
Board members seemed skeptical of CN's bid to get the STB to order CP to divest the KCS Springfield line, which connects the Illinois capital to Kansas City and St. Louis. CN plans to invest $250 million to create the Springfield Speedway, a single-line intermodal and auto route connecting Kansas City and St. Louis to Chicago, Detroit, Toronto and Montreal.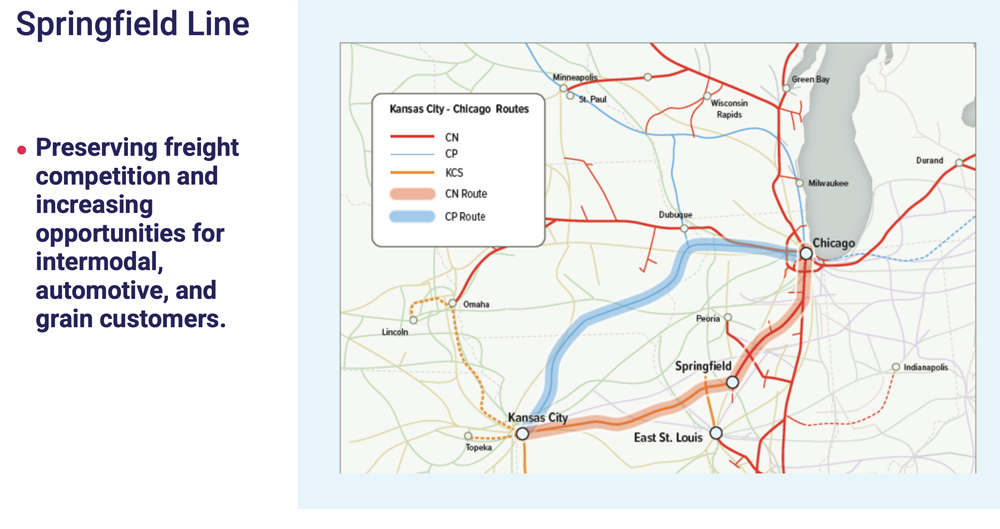 CN argues that the former Gateway Western rail line could compete with CP's own mainline from Kansas City to Chicago and that having parallel routes under the control of a merged railroad was anti-competitive. Under CN's proposal, CPKC would retain access to all current and future customers on the former Gateway Western rail line through haulage rights.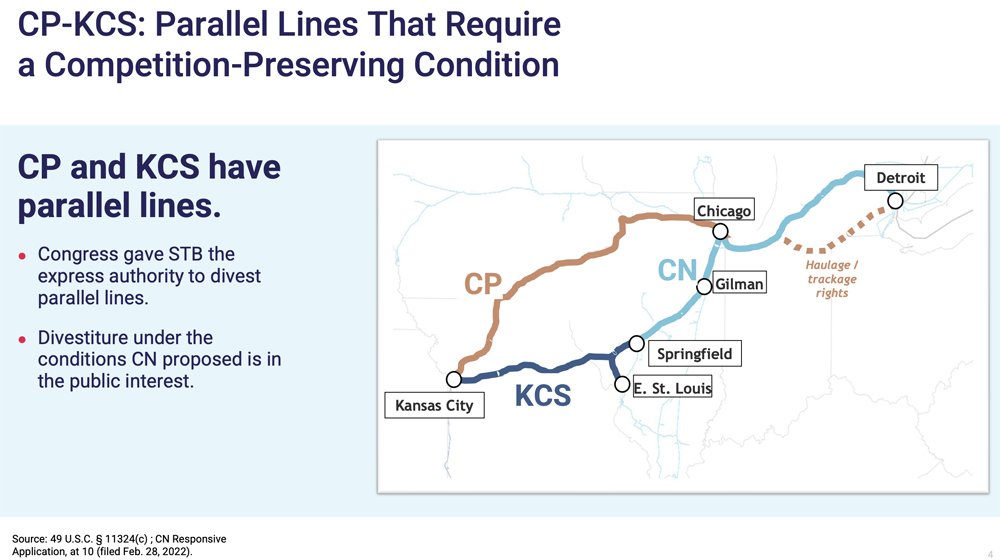 CN says its ownership of the line would spur competition, take 80,000 trucks off the road every year and build supply chain resilience by providing automakers with alternative rail connections – all broad goals the STB supports. and should welcome.
"I would," said STB President Martin J. Oberman. "But I'm also trying to gauge the rather dramatic relief you're asking for, that we take people away from the property they bid for."
Oberman asked if there was anything other than surrender of the line that the board could order as an alternative.
CN said ownership of the line was crucial because it was the only way for CN to make the necessary investments to add and expand sidings and increase track speeds on the route. CN had long wanted to upgrade the line and link it to its old Illinois hub in Chicago, but never approached KCS about it until merger talks began last year.
Oberman questioned CN's motives. "Where was CN three, four, five years ago if it was such a good plan to approach KCS and offer them a bundle of money for this line or some sort of joint venture where the two people could make money the money?" He asked. "This proposal strikes me as, quite frankly, reactive rather than something that CN thought was good for the world."
CN lamented the permanent loss of the Springfield line as a competitive alternative, said it had tried to work with KCS on the interchange at Springfield and that the rail landscape had changed over the past five years.
"What has changed is that CP seems to have won the bidding war with CN for KCS," Oberman said. "And now you're here to try and ask us to force a deal that you haven't been able or unwilling to make with KCS over the years so far – and you're taking advantage of the fact that there's demand. merger before us to get something you couldn't get in the private market.
CN countered that it was not a question of whether it should have entered into an agreement with KCS years ago. The question, CN said, is whether it is in the public interest to force CP to divest itself of the line.
Other council members suggested that ordering the Springfield line to be divested would be overregulation.
"I understand that your divestiture proposal would be of tremendous value to you," Hedlund said. "What worries me is that it seems disproportionate to the competitive harm that could result, if any."
Fuchs noted that the council prefers narrowly tailored solutions rather than ordering major structural changes to the rail network.
The CP-KCS merger hearing will continue on Friday and, due to the slow pace so far, will extend for an additional day on Monday.